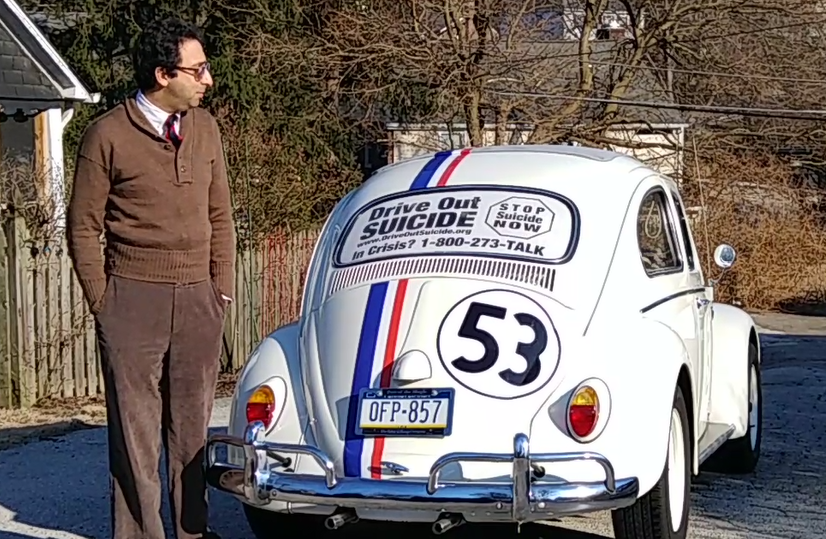 In this episode, Al interviews Gabriel Nathan, editor-in-chief of OC87 Recovery Diaries and a Board Member of Prevent Suicide PA (recorded 11-4-19). Gabe shares how he was bullied from elementary school through his freshman year of college. While he struggled from an early age with depression and anxiety, he was not diagnosed until his sophomore year of college.
Gabe shares his interesting path to becoming the editor-in-chief of OC87 Recovery Diaries, which included working as an EMT and five years as a front-line staff member at a locked in-patient psychiatric hospital.
In addition to his work with OC87 Recovery Diaries, Gabe drives a 1963 VW Beatle; a "Herbie the Love Bug" replica. The back window of his Beatle is adorned with the telephone number for the National Suicide Prevention Lifeline. Gabe recently took an eleven-day, 1300 mile journey with Herbie in order to spread suicide awareness. His journey is being made into a full-length film. You can see a teaser of the film here.
You can find out more about Gabe at OC87 Recovery Diaries. You'll also find Gabe on Facebook...and Herbie, too! Finally, you'll find OC87 Recovery Diaries on Instagram at recovery_diaries and on Twitter @OC87rd.
If you enjoyed this episode, please click the 'like' button. Also, please take a moment to comment and rate the show on iTunes. Finally, don't miss an episode! Click the subscribe/follow button now!
In addition to The Depression Files podcast, you can find Al's blog at TheDepressionFiles.com. There, you can also find out how to work with Al as a coach or schedule him for a public speaking event. You will also find Al on Twitter @allevin18.