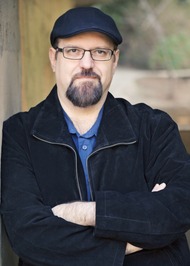 In this episode, Al interviews Vincent Wales, author and co-host of The Psych Central Show (recorded 4-3-19). Vince is the first guest on the show with Dysthymia, also known as Persistent Depressive Disorder. After Vince's mother left him when he was five-years old, his grandparents adopted him and raised him.
After a couple of encounters with friends who mentioned how depressed he seemed, Vince decided to seek out counseling at the age of twenty. While it took Vince many sessions before he'd open up to his therapist, he was diagnosed with Persistent Depressive Disorder at his very first appointment. It wasn't until twenty years later that Vince decided to try medication.
Vince is the author of four Speculative Fiction novels and is in the process of writing his fifth (the third of a trilogy). You can find all four of his novels here. You can find out more about Vince, including links to other interviews and how to book him for an appearance, on his website at VincentMWales.com. Vince is also a co-host of the very popular Psych Central Show podcast. Vince and his co-host, Gabe Howard, speak candidly with experts on various mental health topics.
If you enjoyed this episode, please click the 'like' button. Also, please take a moment to comment and rate the show on iTunes. Finally, don't miss an episode! Click the subscribe/follow button now!
In addition to The Depression Files podcast, you can find Al's blog at TheDepressionFiles.com. There, you can also find out how to work with Al as a coach or schedule him for a public speaking event. You will also find Al on Twitter @allevin18.