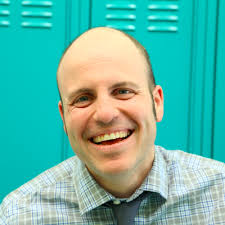 In this episode, Al interviews Dan Ryder, educator, improviser, and design thinker (recorded 5-2-18). Dan describes how his family moved while he was in fifth grade, and the challenges he faced due to the move. This was the beginning of his lifelong struggles with depression, anxiety, anger and stress management. Dan shares what he has learned through hypnotherapy. Dan describes how he has come to terms, in the past couple of years, with the fact that he needed medication to support managing his family, his career, and his art.
You can follow Dan on Twitter @WickedDecent and learn more about him at DanRyder207.com. In addition, check out his book, Intention: Critical Creativity in the Classroom by clicking here.
If you enjoyed this episode, please click the 'like' button. Also, please take a moment to comment and rate the show. Finally, don't miss an episode! Click the subscribe/follow button now!
In addition to The Depression Files, you can find Al's blog at allevin18.wordpress.com. You can also find him on Twitter @allevin18.